When you're $83 billion worth rich, can you afford to wear a multi-million ring just once? Only Nita Ambani, wife of Asia's richest billionaire Mukesh Ambani, chairperson and founder of the Reliance Foundation, can answer that. The 59-year-old matriarch has been there and done that when she flaunted an in-your-face rock on her nimble fingers at the opening of her lifelong dream – the Nita Mukesh Ambani Cultural Centre (NMACC). Per a video by influencer Julia Chafe, this blindingly beautiful 90-carat baguette-shaped rock is worth a whopping $5 million!

Being Asia's richest woman and public figure, the Ambani matriarch is regularly papped, and her dolled-up avatar seldom misses the publications. Going by that, the ring has never been spotted on the Birkin-loving beauty.

It shouldn't come as a surprise that she wore it, especially for her long-awaited launch day, and then it tucked it back into the vault packed to capacity with equally rivaling jewels. Nita Ambani is no stranger to grabbing eyeballs at various soirees, family functions, and social events for her baubles, including a splendid variety of emerald and diamond sets worth millions.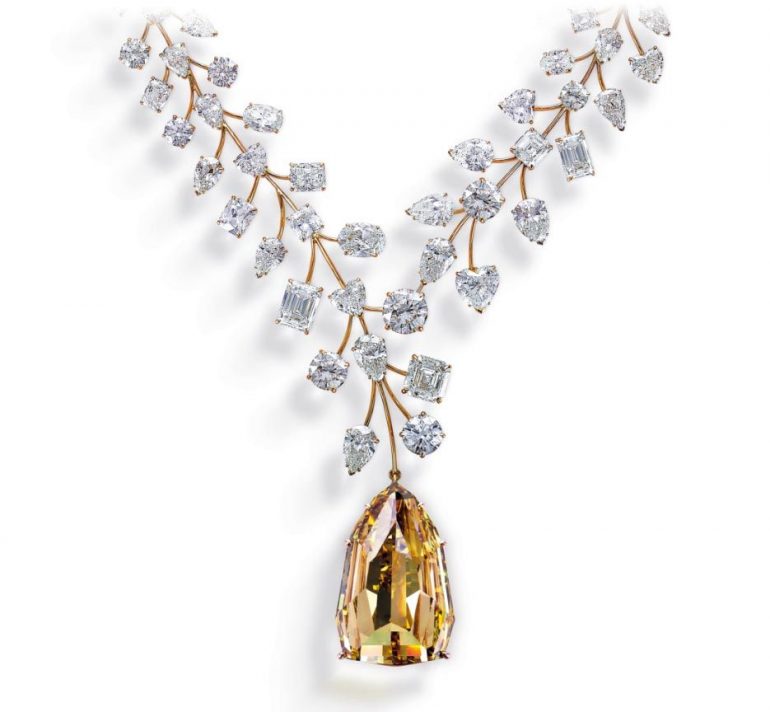 One couldn't expect less from the woman who once bought China worth over $1 million. This woman of exceptional taste gifted the world's most expensive necklace, the $55 million L'Incomparable. The gorgeousness is a marriage of 200 carats of diamonds, with a yellow central diamond weighing a whopping 407 carats. We have a roundup of some eye-catching pieces flaunted by the woman whose personal net worth is estimated to be $4 billion-
From cocktail rings to stunning solitaires, Nita Ambani has it all and more-
If being wealthy means matching your $50,000 personalized lipsticks to your outfits, Nita Ambani breaks her records by opting for statement-making jewelry cognizant of her wardrobe choices. One of her most astounding looks were witnessed at daughter Isha Ambani's wedding where she adorned a double-line diamond necklace encrusted with ascending round solitaires and pear-shaped diamonds to go with her ivory lehenga. With Nita, the bigger the bauble, the better! Gold, diamonds, gemstones, there is nothing the director of Reliance Industries doesn't carry with élan.

Her choices were the talk of the town during her son Akash Ambani's wedding, where she brought out her A-game with equally mesmerizing long necklaces, diamond chokers, and elaborate chandelier earrings. Even her watches are indeed a top choice. The queen of her $2 billion home Antilia, one of the world's tallest private residences, sported a $225,000 Patek Philippe Aquanaut during the Indian Premier League Mumbai Indians match.

The Nita Mukesh Ambani Cultural Centre (NMACC)-
The 8,400 Swarovski diamonds studded on the ceiling of the Grand Theatre seem lackluster compared to the personality of philanthropist Nita Ambani. Her dream took form as the performing arts and multi-disciplinary cultural and exhibition space opened its doors on 31 March 2023 amidst global fanfare. The 52,627 square foot Richard Gluckman-designed NMACC comprises a 4-story art house and three main areas, the Grand Theatre, Studio Theatre, and The Cube.

It is the Mecca of performers, artists, and creative souls, encouraging imagination and welcoming divergence. It is also quite the art hub of Mumbai City, hosting several prominent public art installations, including Kamal Kunj – One of the most enormous commissioned Pichwai paintings at 56 feet tall, with depictions of seasonal festivities, Clouds, a 90-piece set of structured mirrors by Yayoi Kusama, and many more.
The fashion exhibits include global and Indian greats. It is a visual treat to glimpse Isha Ambani's golden lehenga, designed by Italian designer Maison Valentino. It is known as the only lehenga designed by the luxury label that declared it would never create another one. It's also a minuscule example of the wealth of the deep-pocketed Ambani family.